Giornate Nazionali di Corrosione e Protezione dei Materiali: Milan, June 28-30, 2017
Our Corrosion Museum is now open
Corrosion: Stainless steels and superalloys. Theoretical-practical advanced course (in Italian), November-December 2016
EUROCORR 2015 – Graz, September 6-10 2015 – Visit PoliLapp stand!
PhD Workshop with Progetto Rocca – MIT – Thursday, January 8 2015
International conference Corrosion and Scale Inhibitors. To the Memory of I.L.Rozenfeld – Moscow, October 14-17, 2014
EUROCORR – Pisa, 8-12 September 2014: update!
Conference: Pietro Pedeferri e la scuola di corrosione e protezione dei materiali al Politecnico di Milano

Giornate Nazionali di Corrosione e Protezione dei Materiali: Milan, June 28-30, 2017
Next edition of the Italian conference on corrosion will be organized by PoliLaPP and will take place in Milan in June 2017. Come visit us! For more information, go to conference website
Back to top

Our Corrosion Museum is now open
The Corrosion Museum entitled to Pietro Pedeferri has opened in its brand new appearance!
Still located in the PoliLaPP offices, the Musem has been fully renovated, cases catalogued and some of them summarized in a Book of Case Histories.

Back to top

Corrosion: Stainless steels and superalloys. Theoretical-practical advanced course (in Italian), November-December 2016
The new edition of the course on stainless steels and superalloys, organized in collaboration with Centro Inox, will cover 5 days in end November-early December 2016. For further information, you can contact Centro Inox. The course will be in Italian.
Back to top

EUROCORR 2015 – Graz, September 6-10 2015 – Visit PoliLapp stand!
PoliLaPP participates to Eurocorr 2015, which will be held in Graz, September 6-10: we bring in four oral interventions, and the PoliLaPP stand is back – come visit us!

Back to top

PhD Workshop with Progetto Rocca – MIT – Thursday, January 8 2015
On January 8 the PhD in Materials engineering hosted a workshop on the characterization techniques for materials engineering. The workshop proposed interventions from Dr. Seita, MIT, Prof. Bemporad, University of Roma Tre, Prof. Bernasconi, University of Milan Bicocca, and Dr. Andena, Politecnico di Milano. The participation of Dr. Seita was supported by a seed fund between Ti&Fun and MIT Demkowicz group, related to the correlation of grain boundary microstructure with the corrosion resistance of aluminum.
Read the event program
Back to top

International conference Corrosion and Scale Inhibitors. To the Memory of I.L.Rozenfeld – Moscow, October 14-17, 2014
The Frumkin Institute of physical chemistry and electrochemistry, in collaboration with Gubkin Russian State University of Oil and Gas, organized the international conference "Corrosion and Scaling Inhibitors. To the Memory of I.L.Rozenfeld" in Moscow, dedicated to the 100th anniversary of I.L.Rozenfeld, one of the creators of corrosion inhibitor science. The International Journal of Corrosion and Scale Inhibition (IJCSI) provided informational support of the Conference. The conference covered all aspects of the theory and practice of metal protection by
inhibitors. PoliLaPP participated with a presentation by Fabio Bolzoni (read the article here).
For further information you can visit the conference website.
Back to top

EUROCORR – Pisa, September 8-12, 2014
Congrats Ehsan!
During the EUROCORR conference Ehsan Fallahmohammadi, PhD in 2013 with PoliLaPP and now working at Prysmian, received the prize for best young researcher presentation in the Oil and Gas session. The prize is sponsored by ANTIKOR – International Scientific and Educational Corrosion Center, Gubkin Russian State University of Oil and Gas.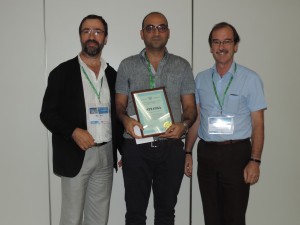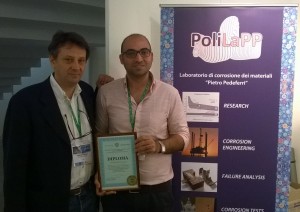 The conference EUROCORR, organized by AIM – Associazione Italiana di Metallurgia and by EFC – European Federation of Corrosion, was held in Pisa from 8 to 12 September.
The main theme of the event was: "Improving materials durability: from cultural heritage to industrial applications".
PoliLaPP participated with a plenary lecture by Luciano Lazzari, conference chairman, as well as with scientific interventions (Tuesday 8: MariaPia Pedeferri, Thursday 11: Fabio Bolzoni, Andrea Brenna, Maria Vittoria Diamanti and Marco Ormellese), and with a stand in the exhibition area.
The conference also hosted an exhibition of Pietro Pedeferri's paintings.
More information available at the conference website: Eurocorr
Back to top

Conference: Pietro Pedeferri e la scuola di corrosione e protezione dei materiali al Politecnico di Milano

The conference, in memory of Pietro Pedeferri and dedicated to the School of corrosion of Politecnico di Milano, was held in occasion of the 150th anniversary of Politecnico.
More information on the conference and on the exhibition organized within are available at the following links:
Programma Convegno Pedeferri
PoliLaPP – Convegno Pedeferri
150 Polimi – Convegno Pedeferri